Mayan Ruins: Your Ultimate Guide
July 29, 2021 / updated February 22, 2023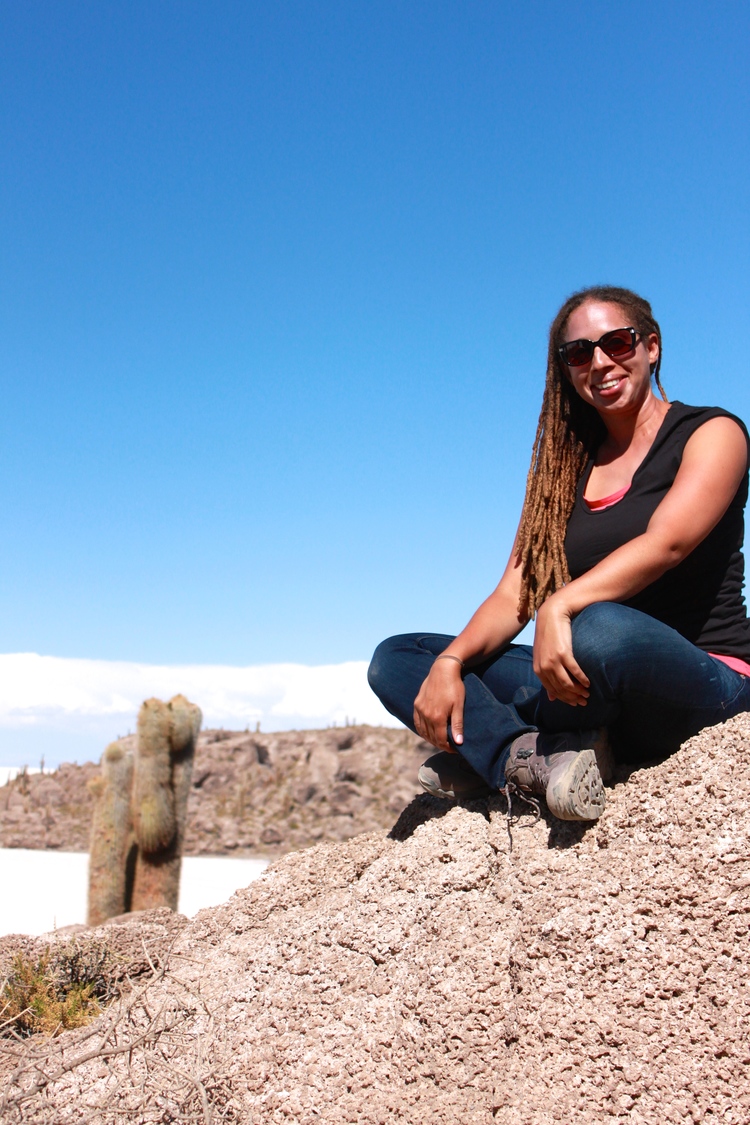 The Yucatan Peninsula was the center of the Mayan empire with many impressive Mayan ruins spread across southern Mexico, Belize and northern Guatemala. As a local to the area, I've probably seen more than my fair share of them. From the vast, open plazas that could easily hold thousands, to sites enshrouded by jungle cover with howler monkeys loudly claiming their territory, no two Mayan ruins are alike.
Visitors to Cancun who've done their homework will have most certainly heard of all the Chichen Itza tours on offer and its recent status as one of the New Seven Wonders of the World. What you might be wondering, however, is what's the difference between these ruins and all the others?
Read on to find out which Mayan ruins excursions should be at the top of your list, what sets them apart from each other and which ruins to look out for if you want to get away from the crowds.
Top Mayan Ruins to Visit From Cancun
While the Yucatan Peninsula has more than its fair share of Mayan ruins, I would only choose a handful to describe as a "must-visit". These are the ruins I've personally visited multiple times either because there's just that much to see or because the experience and scenery are worth a second look.
Chichen Itza: The Popular One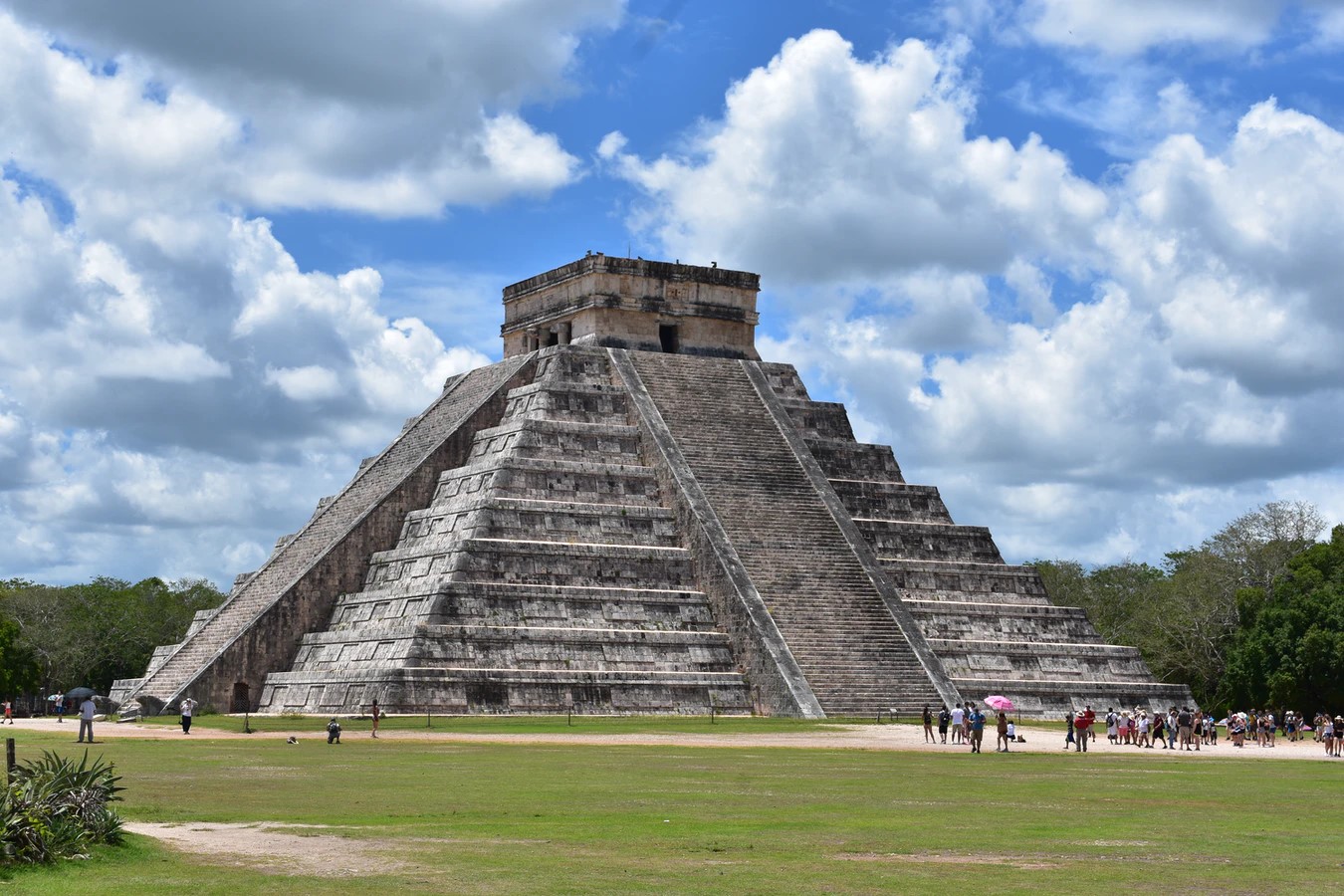 It's tough to write about Mexico's Mayan ruins and not start with the country's crowning jewel of Mayan ruins: Chichen Itza. The easy access from Cancun and numerous Chichen Itza tours make it a popular day trip while the surrounding area also hides a few surprises.
The site's famed centerpiece, El Castillo is easily recognized as one of the New Seven Wonders of the World, but there are many other structures to see and learn about in this vast complex occupying around four square miles.
Chichen Itza was one of the largest cities in the region during the pre-Columbian era. It had sprawling residential complexes and was a major commercial center. Research suggests that the city was so large it even had suburbs.
If you can time a visit during either the spring or fall equinoxes, El Castillo, also called "Kukulkan Pyramid" forms an impressive snake's body using only the shadows of the stoned walls.
Fun facts about Chichen Itza
The structures are made out of stone and were transported by hand
The ball court is the largest of all the Mayan ruins, measuring 554 feet long and 231 feet wide
Archaeologists have found vast amounts of gold, jade, and copper in the sacred cenote tossed in by the residents as offerings to the Mayan Rain God
Many records put the age of Chichen Itza at over 1500 years old
Uxmal Ruins: The Quiet Achiever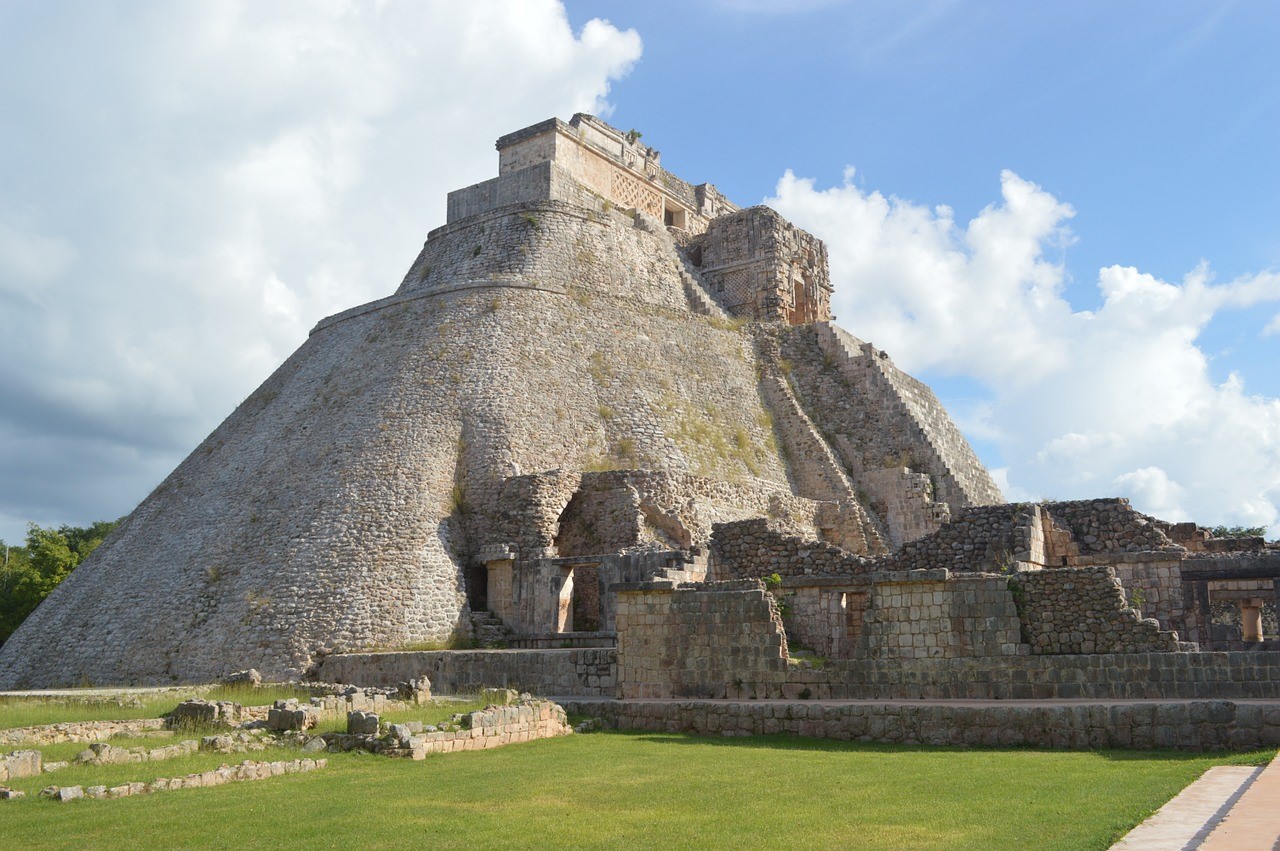 While Chichen Itza is known for getting millions of visitors every year, Uxmal's numbers stand at a much more modest low six-figures. That doesn't mean it's not worth visiting, though, and the smaller crowds might actually be more of an incentive to venture a little bit further to see what these Mayan ruins have to offer.
Uxmal, pronounced oosh-mahl, was once one of the largest cities in the Yucatan Peninsula and at its peak (around 600-900 AD) was home to approximately 20,000 Mayan. Unlike Chichen Itza, Uxmal was still inhabited up until the arrival of Spanish in the 16th century.
The ruin holds its own as a UNESCO World Heritage site and personally, it's my favorite amongst all the Mayn ruins. The site is more compact than many others so it's much easier to visit each structure and also very hilly so you get to take it all in from many viewpoints.
The best part about visiting is you can still climb a few structures in the complex (usually a big no-no at Mayan ruins) and while the stairs are steep, the views over the site and surrounding jungle are truly impressive. It's important to note that this is a 4.5 hour drive from Cancun. It is a long day, but a private tour is well worth it in my opinion.
Fun facts about Uxmal
The tallest structure, the Pyramid of the Magician is a height of 100 feet
The main Mayan ruins of Uxmal cover around 150 acres
Queen Elizabeth II visited on February 27, 1975 for the inauguration of the site's evening show
The name Uxmal is derived from Oxmal which means "three times built" but five stages of construction have been found in these Mayan ruins
Tulum Ruins: The Pretty One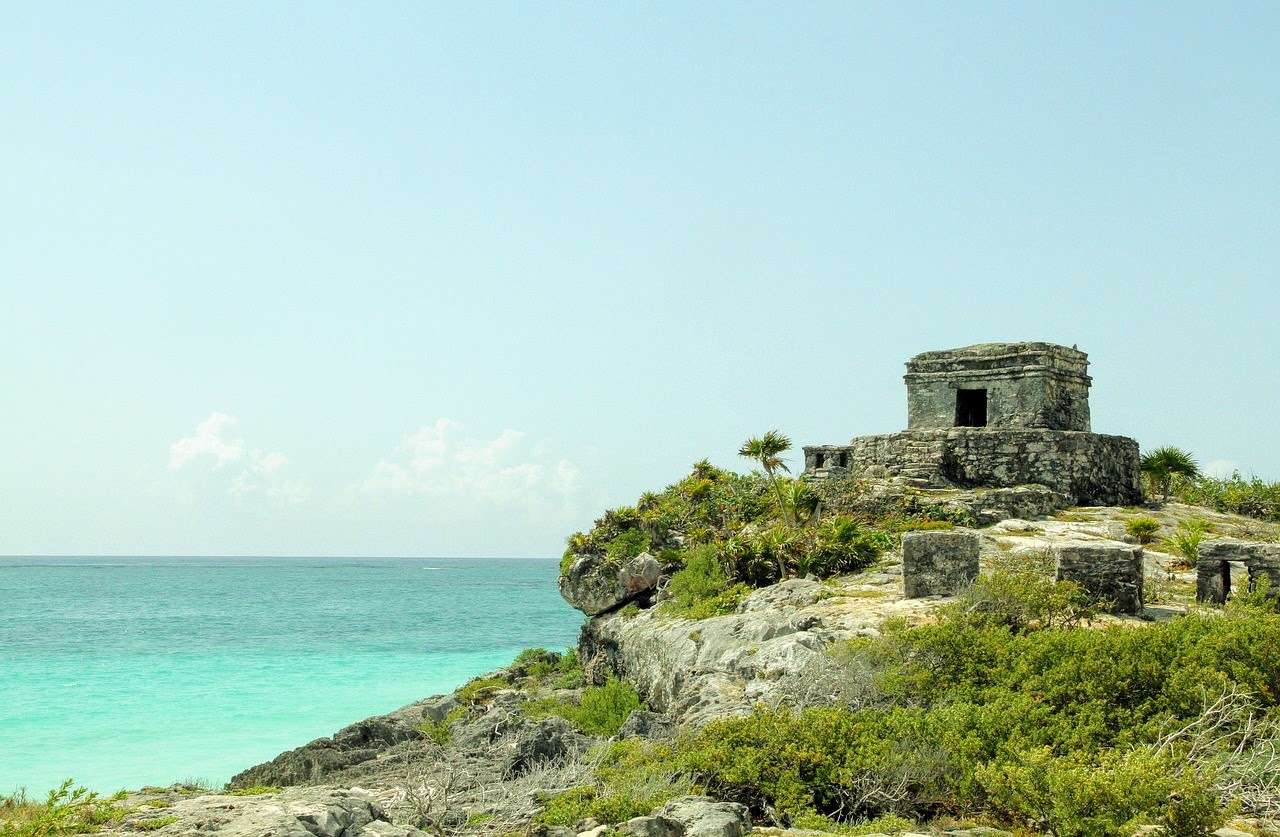 Tulum is known for two things, beautiful beaches and its Mayan ruins. While not the most impressive set of archaeological ruins on this list, Tulum's ruins are certainly the most picturesque.
Situated on a 39-foot high cliff overlooking the Caribbean Sea, Tulum was the only port city of the great Mayan Empire and it was here that goods were traded for the bigger cities. What was once a location of strategic import, these Mayan ruins are now popular for their stunning views.
Its smaller size can also be a great advantage if you're visiting on a day trip. You can easily explore the whole site with time for a snorkel in the ocean, all in three or four hours. Some Tulum tours even couple these scenic ruins with other must-visit destinations like snorkelling with turtles in Akumal or swimming in cenotes. A few Chichen Itza tours will also include Tulum's Mayan ruins as a stop during the same day.
Fun facts about Tulum Ruins
Tulum is the third most visited archaeological site in México following Chichen Itza and Teotihuacan in Mexico City
The site had an estimated population of up to 1,600 inhabitants
Tulum was originally named Zama, meaning sunrise, likely due to the structures facing the sunrise
The reef in front acts as a strategic barrier where ships would sink if not accessed just right
Coba Ruins: The One in the Jungle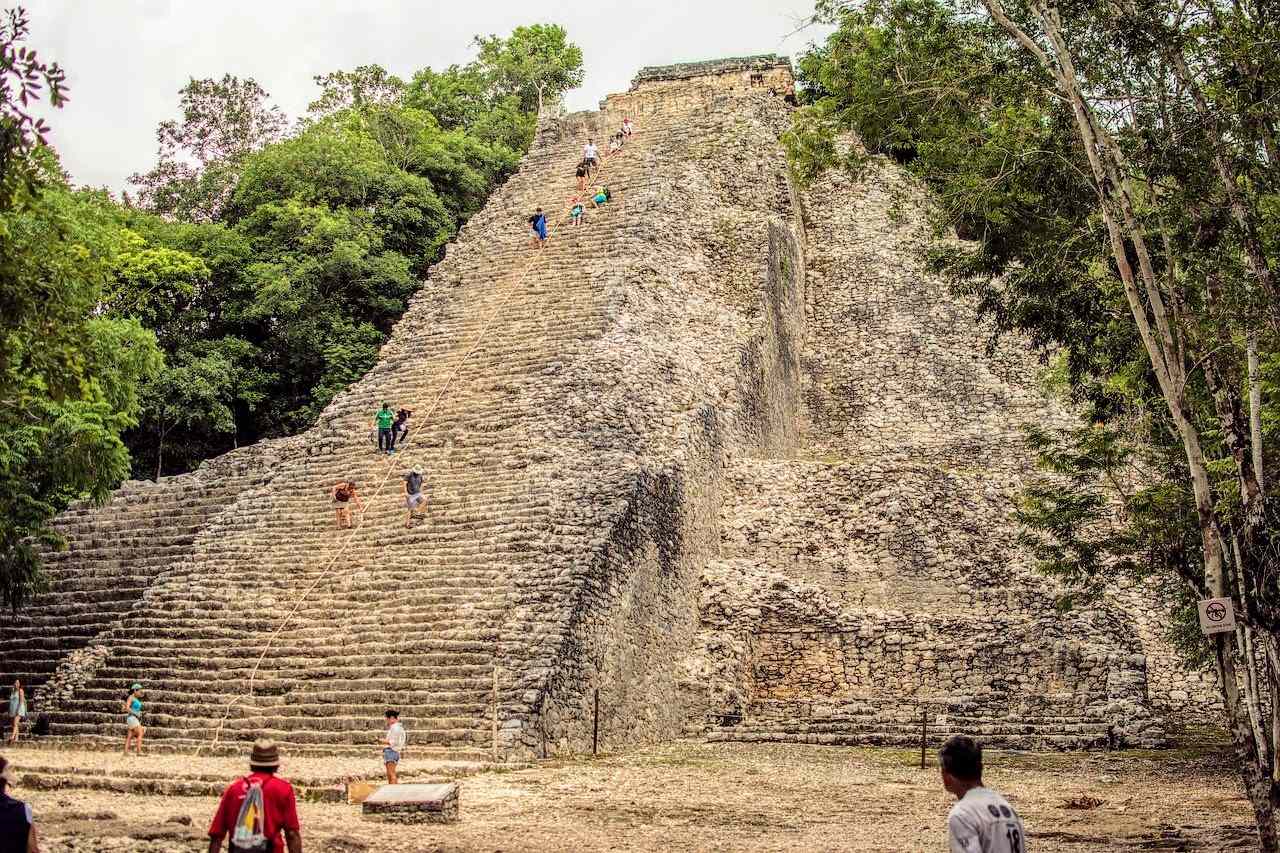 The settlement of Coba was occupied by a sizable population that grew to 50,000 inhabitants at the height of its productivity between 600 AD and 900 AD. What really makes Coba stand apart is that it's not actually a single site, but an expansive group of sites connected by a central pyramid.
The sites are connected by over 16 Mayan ceremonial roads, one of which you must walk down to get to the center. A walk down this peaceful track is a great way to get a sense of the past but you'll also have the chance to hire a bike or take the VIP option of a chauffeured tricycle, also known as a Mayan limo.
One of the best parts about a visit to Coba is that it's not as excavated as other Mayan ruins so you almost feel like you're wandering through the jungle, discovering lost buildings as you go. In fact, Coba was not visited or even studied until the 1920s as archaeologists were unable to access the site due to dense jungle.
We work with one of the original operators in the area to offer a private tour of Coba Plus Spider Monkeys and a Cenote Swim.
Fun facts about Coba Ruins
Evidence shows Coba traded extensively with Mayan communities as far away as Honduras
Coba means 'ruffled waters' or 'waters stirred by wind' as these Mayan ruins are located on two lagoons
The longest ceremonial road runs over 62 miles westwards to the site of Yaxuna
At 137 feet in height with 120 steps leading to the top of the Nohoch Mul pyramid, it is the tallest of Yucatan's Mayan ruins
Other Mayan ruins worth visiting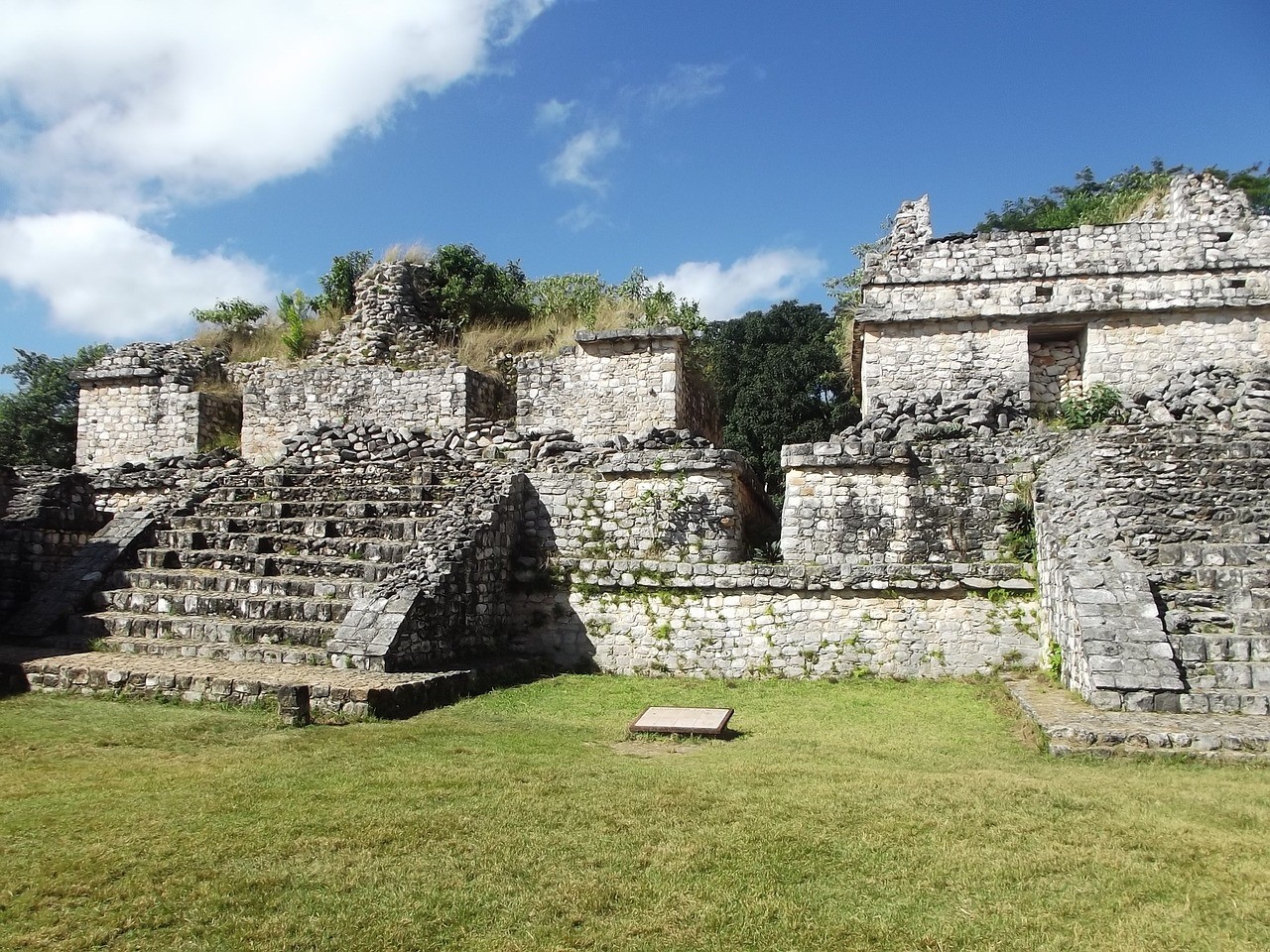 Maybe you've been there and done that with the bigger Mayan ruins in the area or perhaps you're keen to dive further into the Yucatan's deep history. Either way, there are dozens of Mayan ruins you can access from Cancun and while they might not draw in the crowds of the Tulum and Chichen Itza tours, many are significant in their own special way.
Ek Balam
A small but feature-filled site, Ek Balam is known for the depictions of "angels" adorning a stucco frieze. 45 structures have been mapped in a settlement covering 4.5 square miles but only 1 square mile is viewable to the public.
As Mayan ruins go, Ek Balam packs a punch with its highly decorated facades, enormous dimensions of its buildings and the large defensive walls surrounding an inner city. It is fairly accessible, especially from the Riviera Maya region.
You can see Ek Balam and Rio Lagartos in just one day!
El Rey
If you're staying in Cancun and keen to discover more Mayan ruins, this one is a no brainer. El Rey is located in Cancun's Hotel Zone, is close to the Cancun Mayan Museum and is very easy to visit.
What El Rey lacks in size, it makes up for with iguanas and while it used to be an important ancient Mayan trade route, many flock there now to get close to the hundreds of iguanas that have seemingly taken over these Mayan ruins.
El Meco
El Meco is hidden away in a remote area in the north of Cancun and is a small but influential archaeological site. It has the highest archaeological structure out of the Mayan ruins in the northern peninsula which most likely means it was used for maritime navigation.
It was just recently opened to the public and is very well preserved for a site of its size. You'll find signs that excavation is still taking place and it's fun to discover the carefully made carvings laid out on the floor of the structures.
Mayanpan Ruins
History lovers will enjoy this last link in ancient Mayan history as Mayanpan is known as the last standing civilization before Spain's arrival and holds a treasure trove of information.
Excavation on the site is ongoing and US and Mexican archaeological teams continue to uncover more information about these Mayan ruins. This is a site to visit if you are looking for a deeper understanding of the Mayan.
Muyil
Muyil is a local favorite amongst Mayan ruins thanks to its lush jungle surrounds, few visitors and on-site lagoon. It's located within the northwest of the Sian Ka'an Biosphere Reserve boundaries and there's even an observation tower you can climb to get views over the treetops and across the lagoon.
Playacar ruins
While nothing to write home about, if you're staying in Playa del Carmen, it's worth an hour to visit this small set of Mayan ruins located in the gated community of Playacar.
The ruins were known as a launching point for women to honour the Goddess Ixchel over on Cozumel Island. An annual spiritual pilgrimage was a necessity in the eyes of the Mayan for a healthy pregnancy and childbirth.
San Miguelito Ruins
This is a decent option if you don't have much time and you're keen to learn as much as you can in one location without venturing to the Mayan ruins further south. The San Miguelito Ruins are located on the site of the Cancun Mayan Museum which holds an archive of Mayan artefacts from various archaeological sites.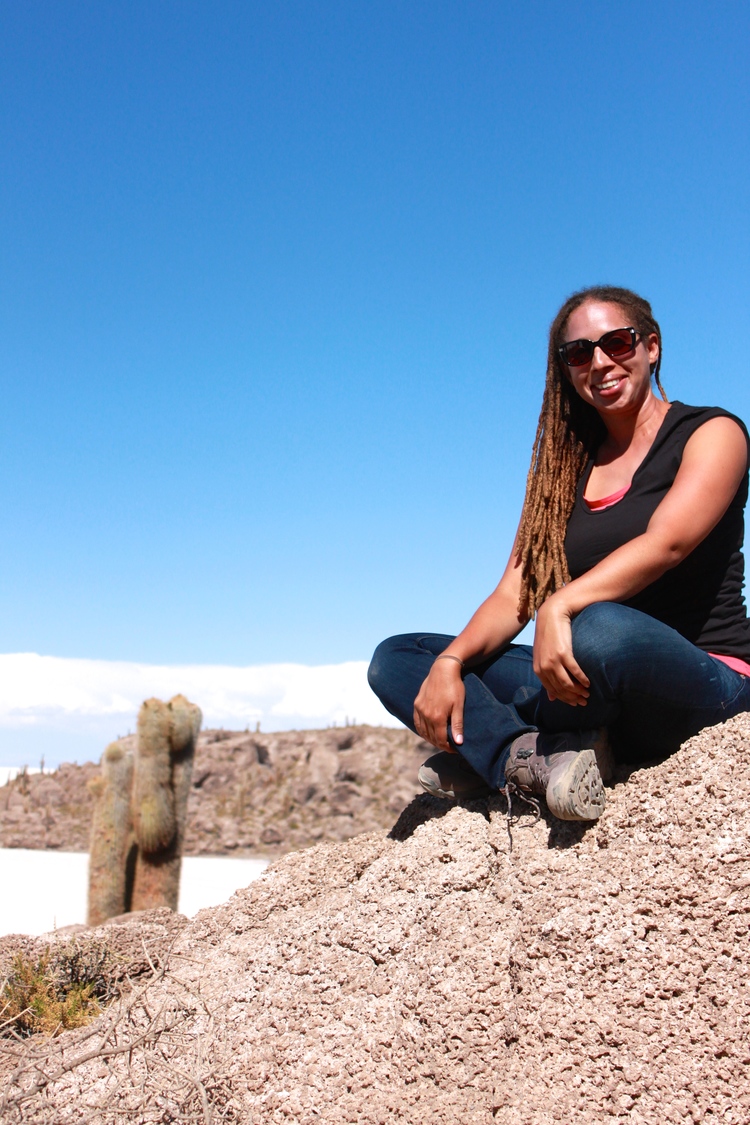 Cristal D
Local Writer, Global Traveler
Cristal Dyer was born in the Caribbean and has spent the last several decades travelling and writing, including several stints in Latin America. Currently based in Australia, she owns and operates her own travel site tofutraveler.com and is an expert travel writer, editor and photographer with a focus on solo budget travel and food tourism.