The Best Footwear for Xel-Ha – Don't Make This Mistake!
August 10, 2022 / updated November 2, 2022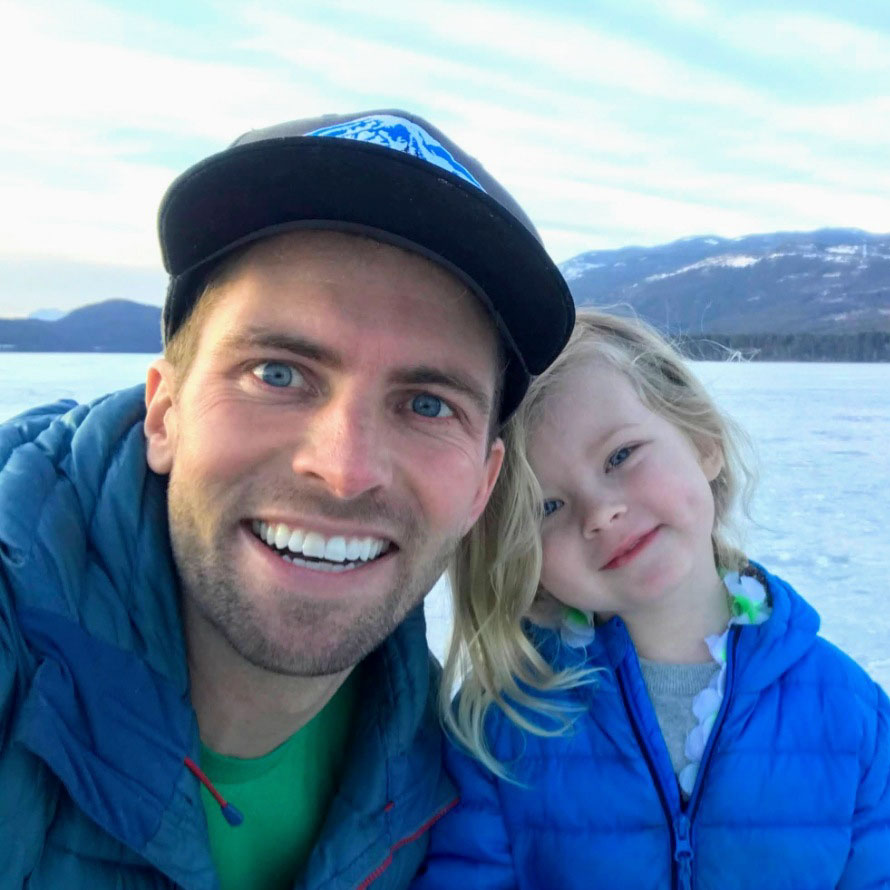 Having the right footwear for your trip to Xel-ha Park in Mexico is critical to having a good time. Not only does it enable you to participate in all the activities, it can also be your saving grace from blisters and uncomfortable feet. This is true for any of Mexico's Xcaret Parks for that matter.
Read on if you want to avoid common pitfalls on your next vacation and set yourself up for happy feet at Xel-Ha, the incredible Tulum waterpark.
Why Is Footwear Important at Xel-Ha?
Xel-Ha is enormous! It covers 207 acres and has miles of interconnected trails that lead you from one fun activity to the next. It is safe to say you'll spend plenty of time walking and swimming from point A to B throughout the day. Further, your feet will often be getting wet so the wrong footwear can lead to blisters or unstable footing when you need it the most.
What Are the Best Shoes to Wear For Xel-Ha?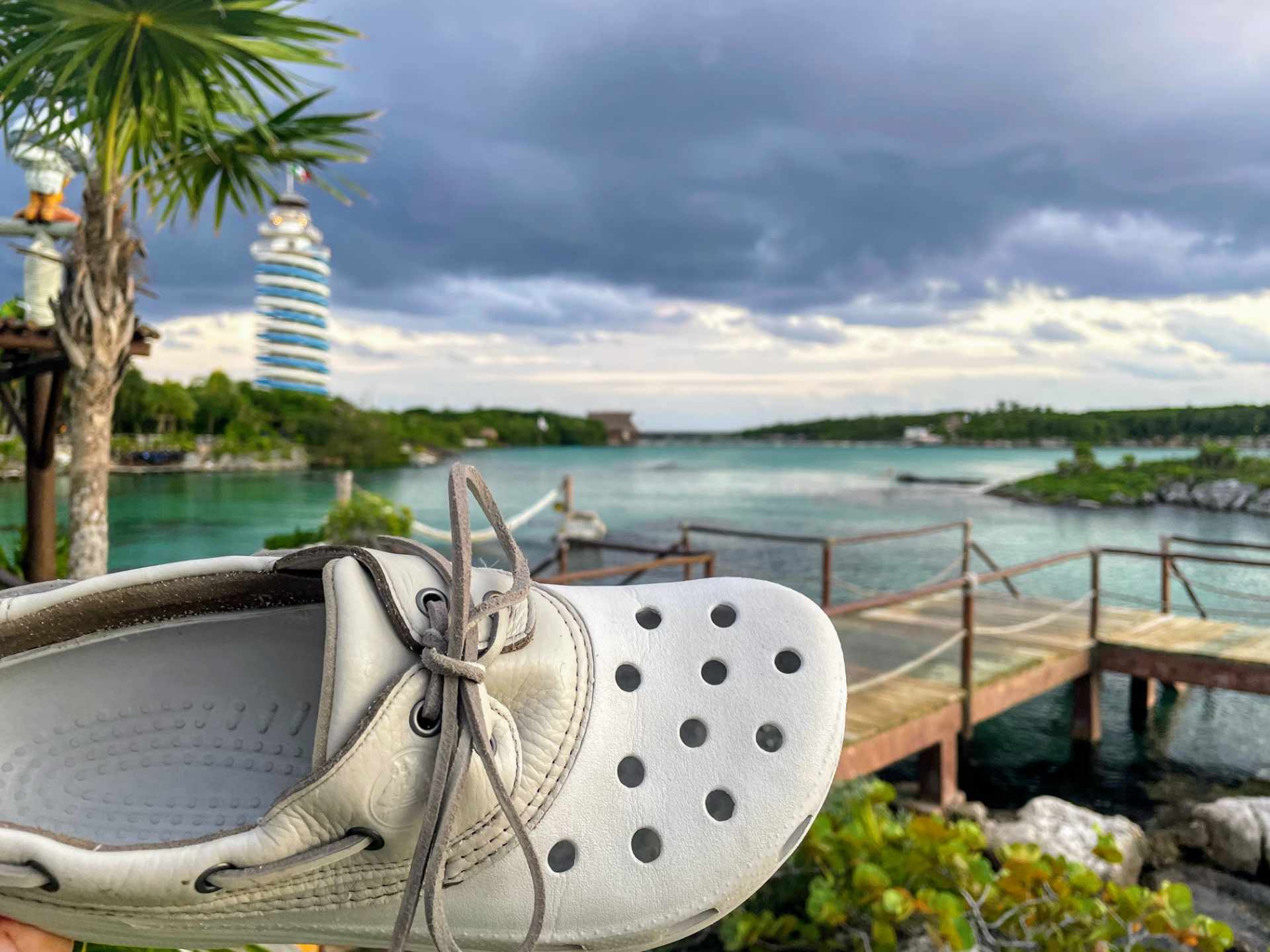 As you can see in the image above, Crocs with a leather upper and laces are the number one-voted shoe for all Xcaret Parks in Mexico for three consecutive years*(1)*. Yet, these limited-edition crocs aren't easy to come by for the average person (mine were acquired exclusively at my local thrift store). So I've put together a helpful list of footwear that you might just find in your closet or at a nearby store.
First, you should have something that will stay on as you swim in the water (i.e. not flip flops). Second, your shoes for Xel-ha should be sturdy and supportive as you may find yourself crawling over limestone rocks or ascending a steep path to jump off a cliff into the lazy river.
Finally, you should bring two pairs of shoes that you can get wet. You probably aren't wearing your aqua shoes on a regular basis to build up calluses and break them in and when you cover 8+ miles in unworn shoes it can lead to more pain than pleasure. Therefore, stash one pair in your locker right away and then you can come grab them if you end up getting blisters or simply need a pair of dry shoes for a while.
Shoes you SHOULD wear at Xel-Ha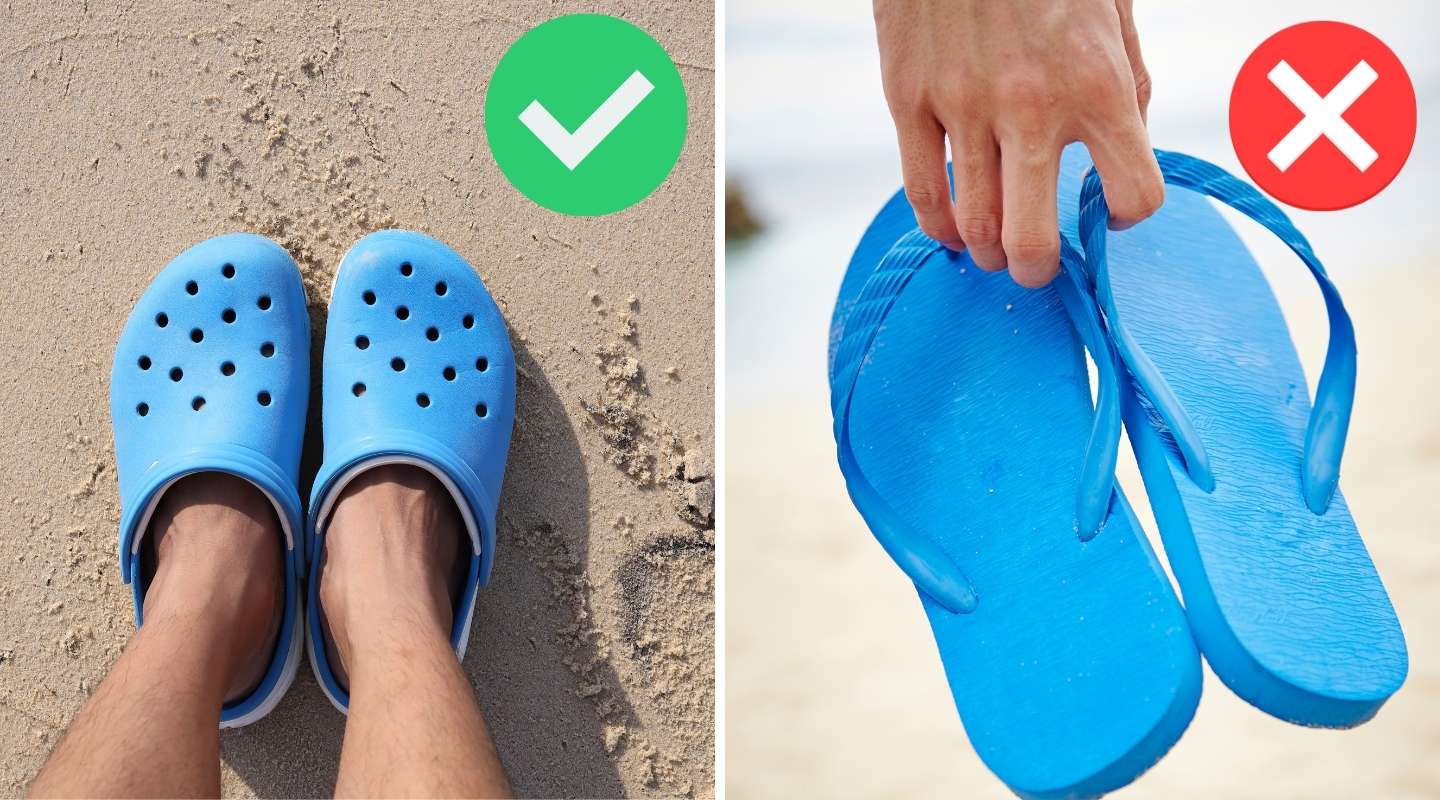 Crocs – Put 'em in sport mode
Tevas, Chacos or Other River Sandals – Great stability, traction and built to get you through wet, slippery terrain.
Aqua Shoes – Quick drying, secure and solid traction make these a great shoe for Xel-Ha
Vibram FiveFingers - You'll look almost as cool as the guy wearing Crocs!
Shoes you SHOULDN'T wear to Xel-ha
The one's you've never tried on – You are on your feet a lot! Make sure your shoes fit and are comfortable.
Flip Flops – Trust me, I've made this mistake. You will be clenching your toes so much your feet will cramp simply trying to keep these on in the water.
Rainbow Sandals – Yes, I'm talking to you, California. This incredible shoe simply doesn't stay on when you're splashing down from a zipline AND you don't want a shoe that gets slippery when wet.
Burkentocks – See caution about "slippery when wet" above.
Tennis Shoes – While these are fantastic for staying on and giving you traction and support, in my opinion, the squishy sounds you'll have to deal with as you walk from one activity to the next simply isn't worth it.
If you get to the park and still need some decent shoes, fear not. You can pick-up some overpriced aqua shoes in the welcome store near the entrance. It's ok though, you'll get your money's worth from this incredible experience.
Which Activities at Xel-ha Are Most Critical For The Right Footwear?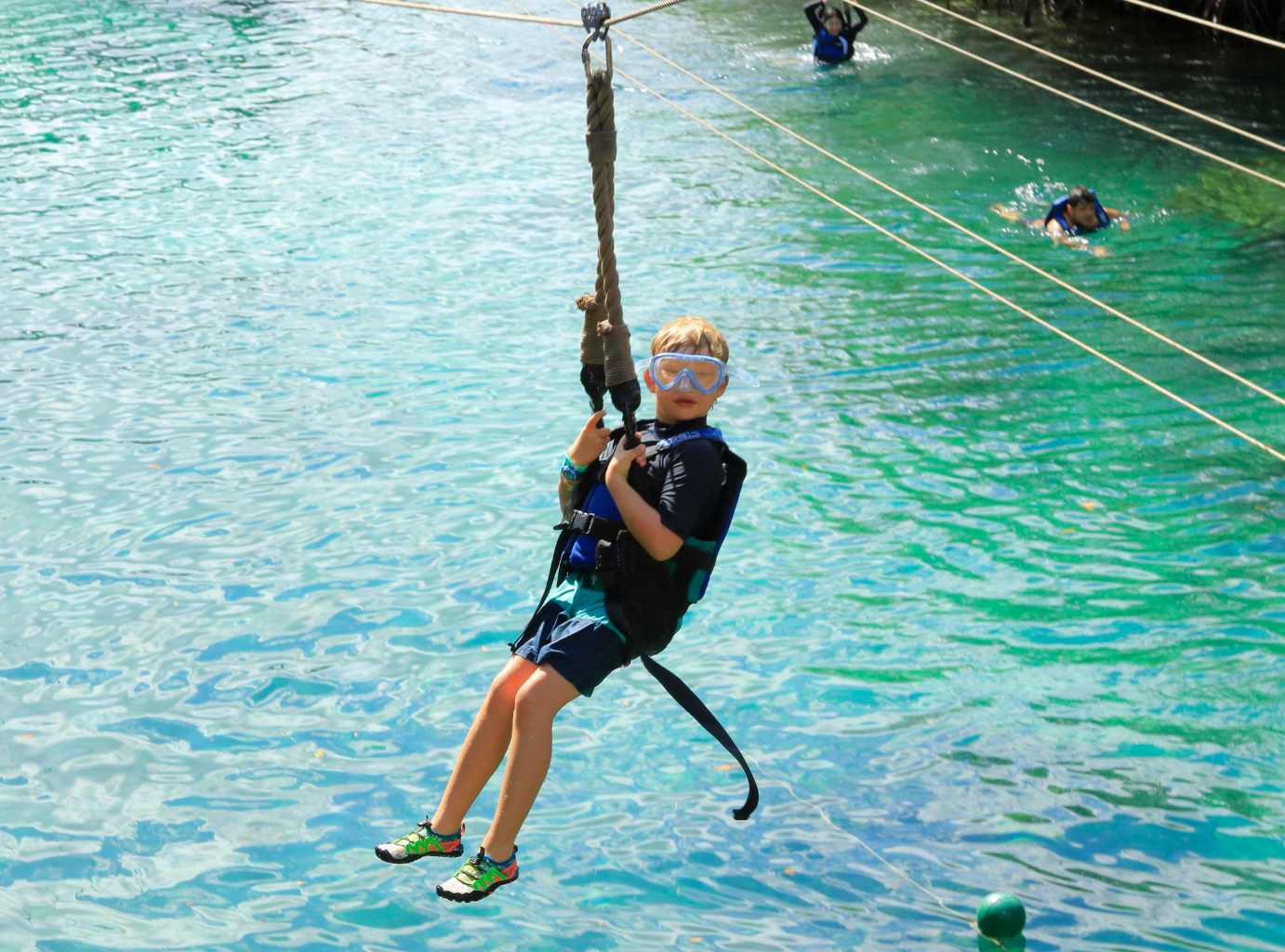 While you can get by with mediocre footwear through a lot of the park, here is where you really need the right shoes:
Zip Bike - Pedal through the air in style
Cliff Jump - Protect those feet as you splash down from up to 20 feet in the air!
Zip Lines - Shoes are a must
Cavern Swim - Sharp rock walls and walk down to the water
Lazy River - You don't want to be barefoot and have to walk all the way back to your shoes!
Just about every activity at Xel-ha will require your shoes on. The one exception is the waterslide that descends from Xel-ha's scenic lighthouse tower. Here, shoes are not permitted and will be stored in a locker at the base of the slide.
The Footnotes
Xel-Ha is amazing. You will have a spectacular adventure and an even better experience when your feet are happy. Hopefully our mistakes lead to your success. Feel free to hit us up if we can help answer any questions OR if you think you've found a more ideal shoe than the lace up Croc ;) for a visit to Xel-ha.
Citations
(1) This statement has not been fact checked. Not only is it likely incorrect, it simply stems from the author's adoration of their thrift-store Croc discovery last year.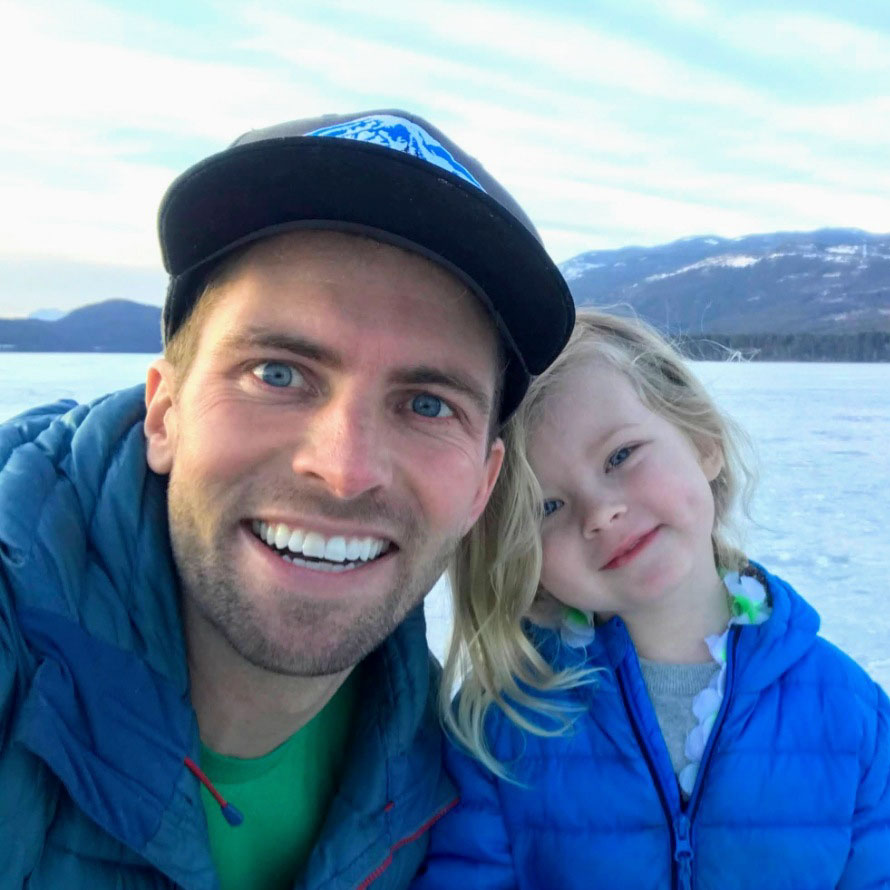 Travis V
Travel Enthusiast
Travis Vaughan is the CEO of Tourbase and has been working in and around travel and tourism since he was a student. He lived in the Caribbean for years and has traveled extensively through Mexico and Central America. He creates and edits travel content across Tourbase's many regional markets drawing on both his expertise in the business of tourism and his lifelong passion for international travel.
Best tours in Cancun
Explore these top-rated Cancun tours
Things to do in Cancun
Guides & Resources for your Cancun trip