The Ultimate Family Guide to Xel-Ha Park In Mexico
June 28, 2022 / updated November 3, 2022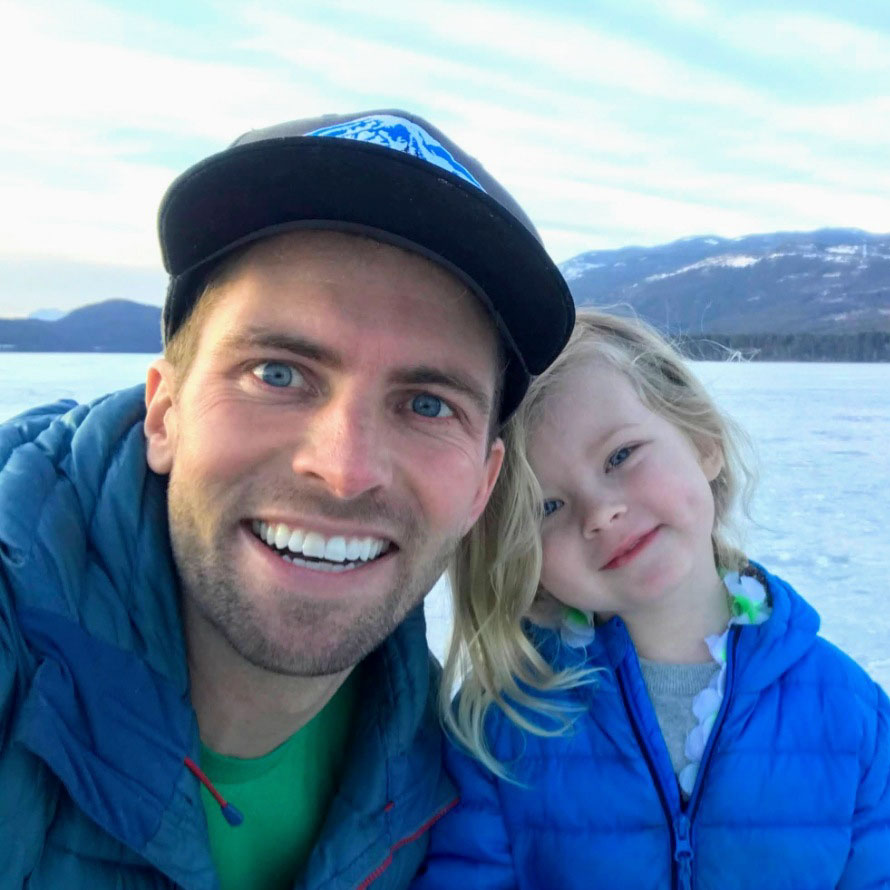 After experiencing Xel-Ha with three generations of my family I can tell you this place is incredible for people of all ages. In this guide, I'll give you the scoop on everything you need to know about Xel-Ha waterpark during your family's next Mexico vacation.
Still trying to decide if it's worth the visit? I get it! The problem is that Cancun and the Maya Riviera are filled with so many incredible things to do, it can be hard to choose. You want unforgettable memories AND you don't want to ruin a precious vacation day by dragging your kiddos into an experience that just isn't the right fit. Make no mistake, Xel-Ha is a day you won't forget.
Here's what you need to know about Xel-Ha so you can maximize the family fun and have zero regrets.
What Exactly Is Xel-Ha?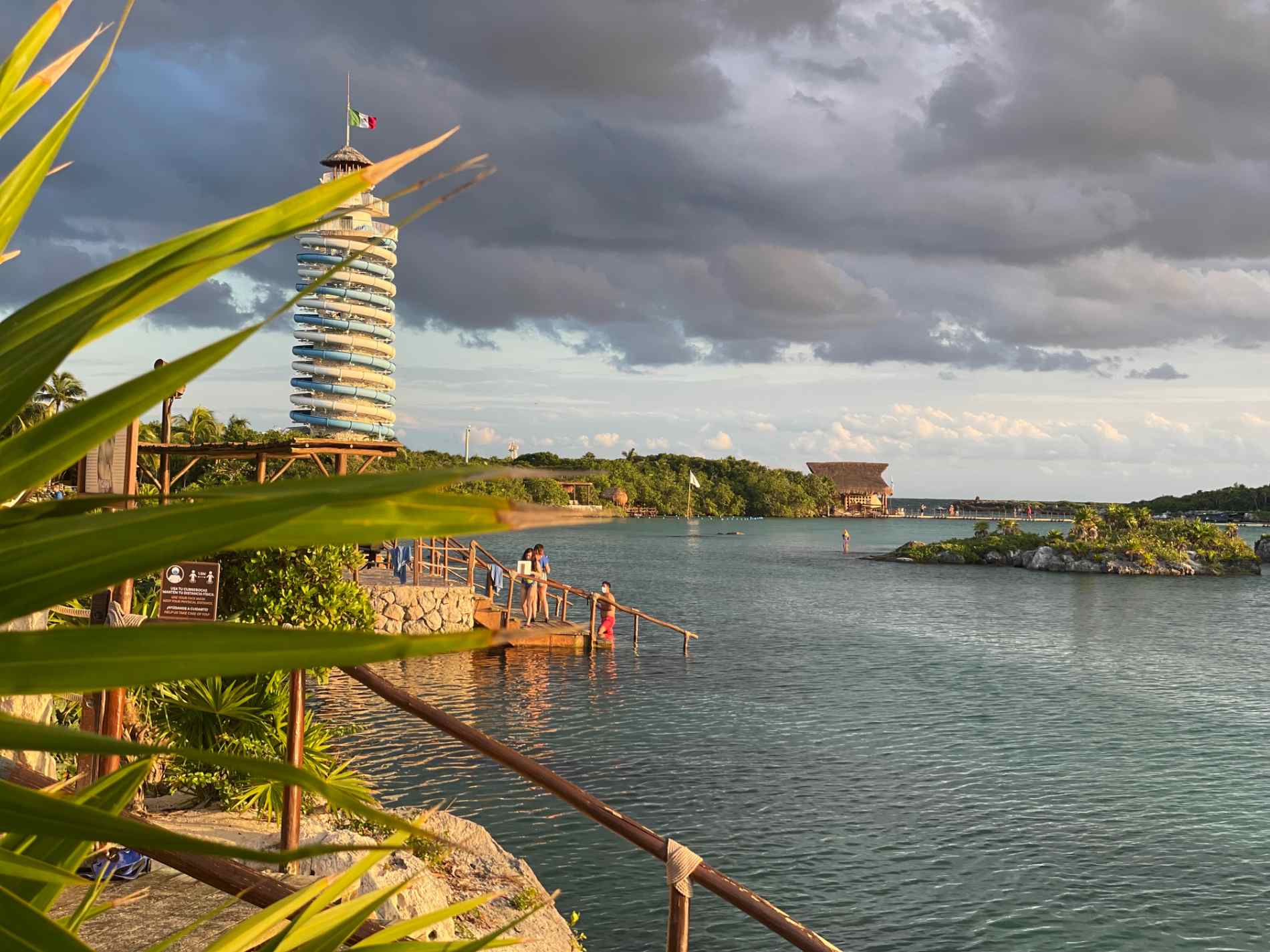 Xel-Ha is one of the main Xcaret water parks that features tons of water-based activities in a natural setting on the coast of the Caribbean sea. Tucked on the coast between Tulum and Playa Del Carmen, it's a 75-minute drive south of Cancun.
What makes this park truly unique is its focus on water activities. You can snorkel around islands and into freshwater cenotes. Ride Hammock Ziplines into the water or relax on the natural lazy river on tubes. There is a 100+ foot water slide, rope canopies, snuba diving or the chance to swim with dolphins.
The park is so enormous! I can assure you won't be able to see it all in a day. But, don't let that keep you from trying!
FULL DISCLAIMER: If you aren't a water person I'd recommend you checkout Xcaret as your first choice. Xcaret has many more indoor and land-based activities whereas Xel-ha is almost entirely outdoors and you'll plan to spend the full day in your swimsuit and getting wet in some form or another.
Is Xel-Ha Good For Kids?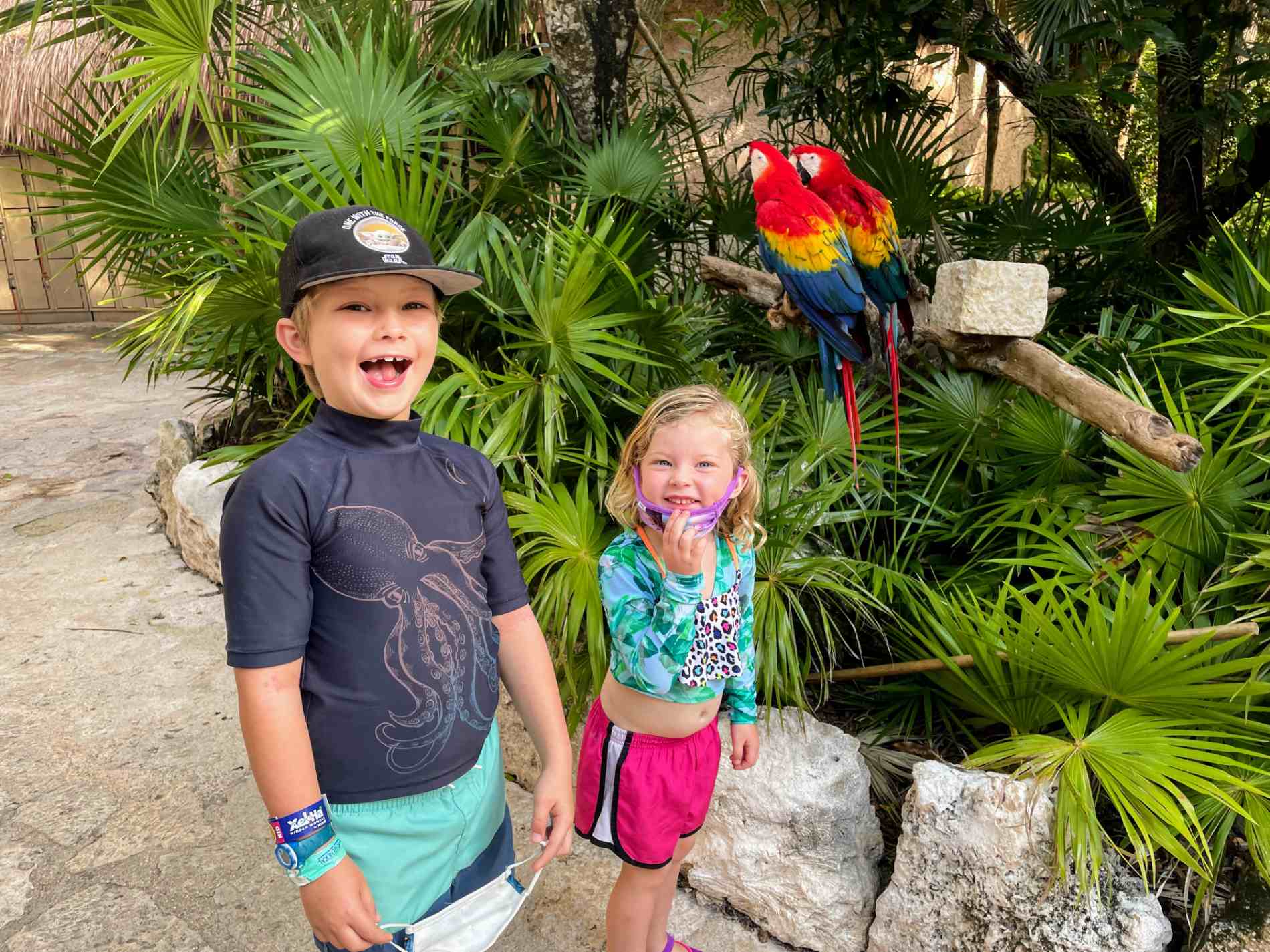 There is no minimum age requirement for Xel-Ha and you'll certainly see families cruising around with infants and strollers. With that said, I'd say it's optimal for kiddos ages 4 and up because you'll do a ton of walking and moving from location to location. Also, many of the activities like ziplines, waterslides and a few others require kids to be 3 feet 6 inches tall to participate.
Some activities like snuba diving with Seatrek or driving underwater propulsion vehicles require kids to be at least 12 years old. With that said, there is no shortage of things to do for kids at Xel-Ha that are younger.
The more comfortable your kids are in the water, the more fun they will have. Our four year old made huge strides in her snorkeling throughout the day and your kids will certainly leave more comfortable being in the water than they were before.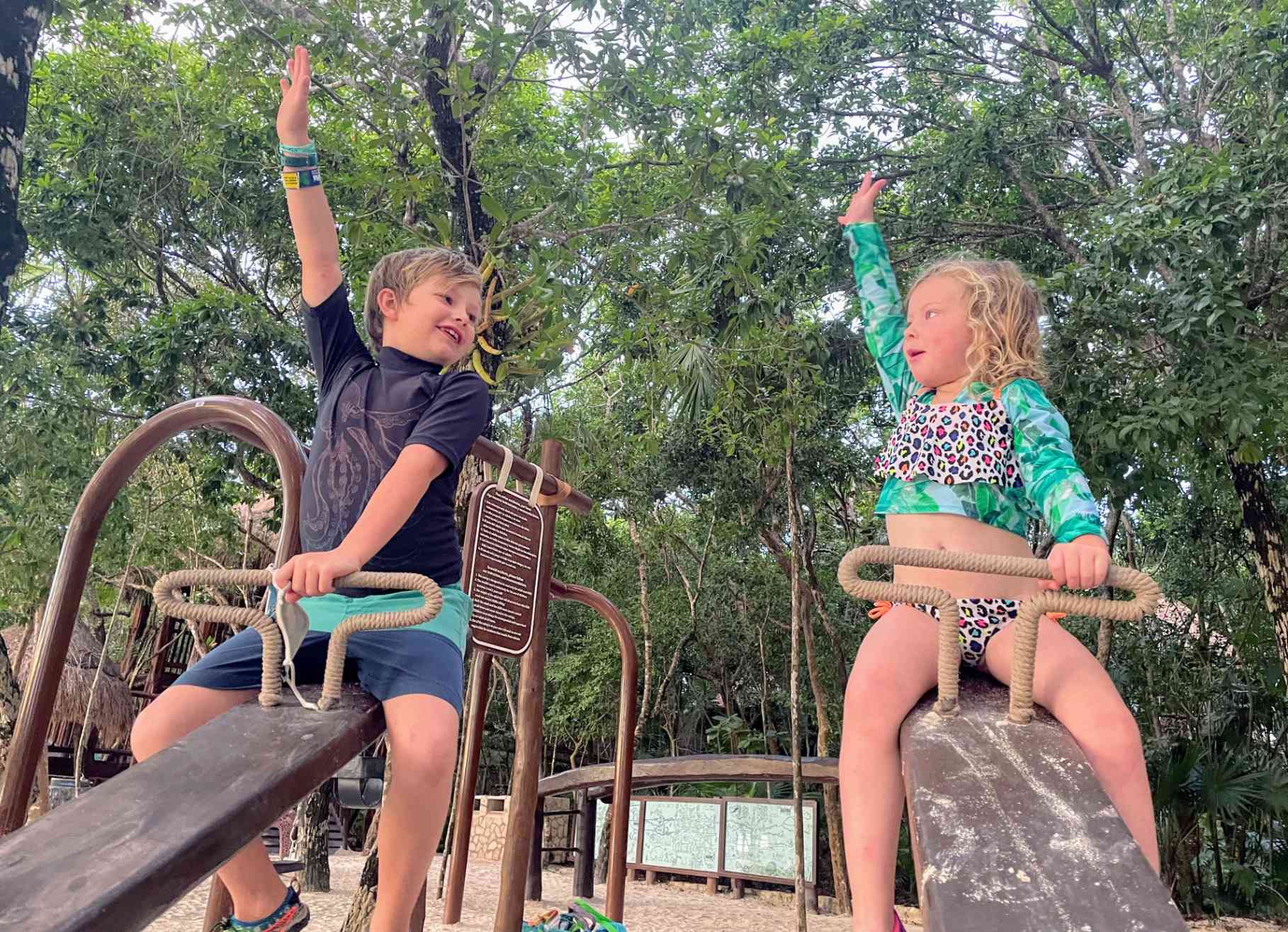 By far our favorite hangout for the little ones was the Children's Play area. Adults can grab a beverage (delicious, unlimited cocktails by the way) and look out over the water while kids burn some energy. There is everything from classic teeter totters to little water slides to a true "jungle" gym course through the lush treetops. You'll definitely spend a good bit of time here if you have kids ages 1-10 while older kids will be ready to hit the bigger features like the waterslides, zip bikes and maybe even some cliff jumping or the lazy river.
What's The Food Like at Xel-Ha?
Unlike Xcaret's basic admission, Xel-Ha is unique in that all of your food and drinks are included with admission. There are 4 main restaurants to choose from as well as 4 unique bars and snack areas throughout. If you have picky eaters, kids can find some classics like pizza, quesadillas, burgers, fruit, rice, etc.
There are many different options for adults and truly something for everyone. La Cocina Del Pueblo features authentic Mexican while Jardín Corona Restaurant features grilled meats and seafood. I highly recommend the ceviche, seafood and the pork carnitas from are worth going back for seconds. The Xula Vista restaurant has a little bit of everything and an unbeatable view.
The staff and service is fantastic and honestly, you can get more than your money's worth in food and drinks alone.
Pro Tip for Value: Get to the park early for breakfast, enjoy lunch (of course) and then end with an early dinner at 5:30 PM. Three buffet meals and you get to enjoy the park nearly empty during that magical window of the first 30 minutes and last 30 minutes of the day.
The Perfect Family Itinerary At Xel-Ha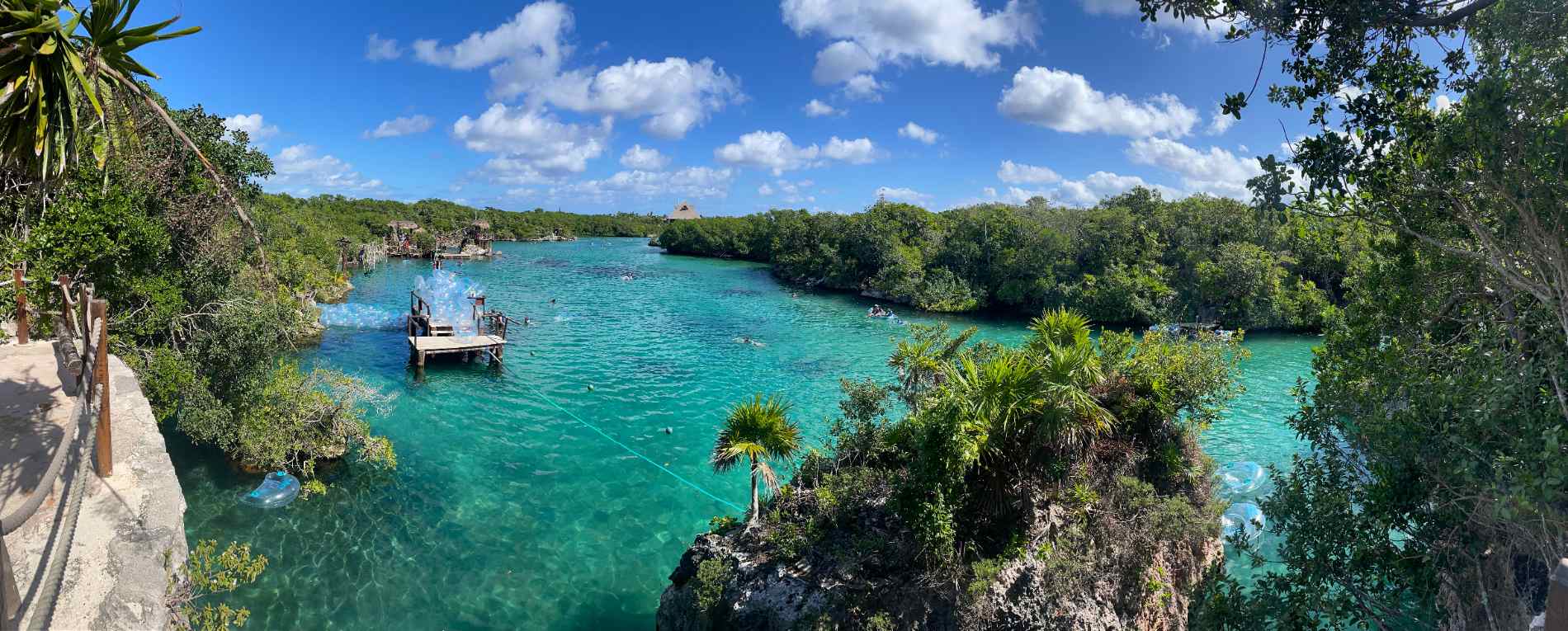 With so much to do and such an enormous park you can definitely end up wasting time if you don't hit it with a plan. Time will absolutely FLY by while you are at Xel-Ha. Here's what I'd recommend to get absolutely as much as possible out of the experience.
8:30-8:45 AM Arrival - First, arrive just before Xel-ha opens at 9:00 AM (double check as opening time may vary a bit from season to season). If you have transport included on the VIP Xel-Ha Experience you don't need to worry about this, but if you end up driving yourself you can beat the crowds to skip the line and get the mark mostly to yourself for the first hour or so.
9:00 AM Work Up Your Breakfast Appetite – I love skipping lines and the line on the waterslide can get pretty long by mid-afternoon. I know you're hungry, but breakfast doesn't open until 9:30 so this is your window to go crush the most extreme part of the park, the scenic tower water slide! Plus, this gives you the best view of the park and helps you get oriented to where the day's journey may take you. If you're not into the water slide it is still well worth heading to the top of the scenic lighthouse so you can see from Akumal to Tulum. There is a different line for the Lighthouse, but takes you to the same area as the waterslide. DISCLAIMER: This waterslide is pretty intense. I'd recommend it for 7+ and only younger if they are strong swimmers as this is the one part of the day where you are NOT ALLOWED to wear a life jacket for a water activity.
9:45 AM Breakfast – After a couple laps on the slide head to one of two main breakfast restaurants for the first of many of your unlimited buffet meals for the day. This is one of the best parts of the day as the food and drinks are excellent quality and included in the price of your ticket. Try the fresh squeezed orange juice!
10:30 AM Kids Play Area – Especially great for younger ones, the kids can run free, enjoy water slides or test their balance on the lily pads or tree top excursion. This is also one of the best areas to launch out for family snorkeling in the bay. We saw huge rays and gorgeous fish that have made this area home.
11:30 AM Manatee View – Get close and personal with an impressive and rare animal. You can see them from above for free or pay the additional activity to snorkel and get up close and personal.
11:45 AM Lazy River – Continue up the path beyond the manatee and you'll pass by the zip lines and head up river. You can go all the way to the beginning of the river or simply grab a raft and jump in at one of the bridges halfway up the river. With younger kids, I'd recommend just catching the bottom half of the river.
12:30 PM Ziplines - The lazy river will take you straight to the zip lines. There are three main lines that let you sit in hammocks or hang from a bar as you splash down and skip across the warm waters. They're a must do and make for great photos too.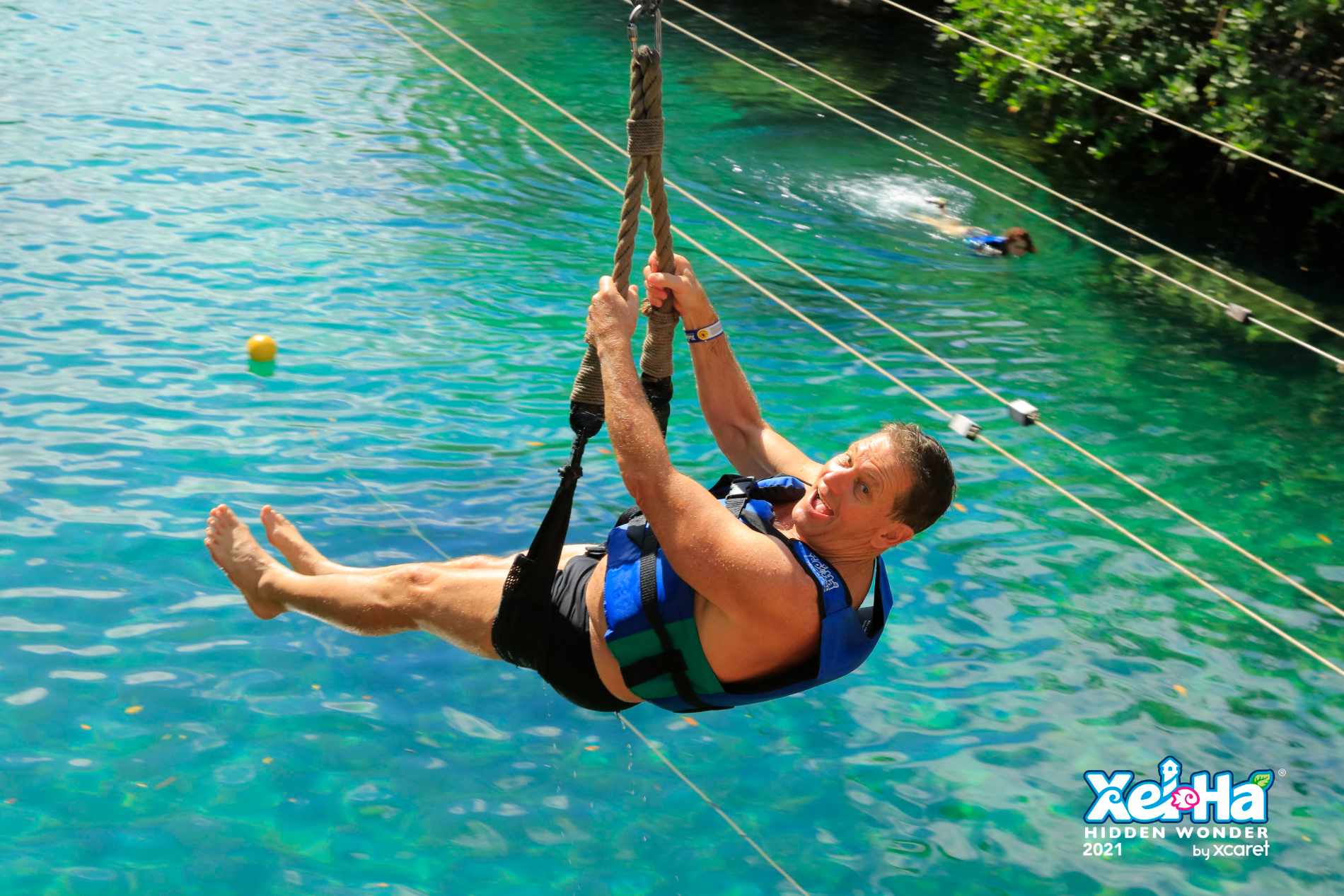 *Even grandpa soared down the ziplines!
1:30 PM Lunch – You'll be hungry and thirsty. Checkout one of the other delicious restaurants to refuel.
2:30 PM Special Activities – If you're interested in swimming with dolphins, riding zip-bikes or the Sea Trek helmet diving experience, this can be a great time to go enjoy it before the day has passed you by. For us, we couldn't finish all the free stuff so we went to explore the caves and cenote on the southern end of the park during this window. See below for a full list of the optional add-on activities.
4:30 PM Cenotes & Snorkeling – Take a visit to the cenotes where you can snorkel, snuba and experience the clean clear water that flows from underground. The snorkeling through the main bay is fantastic and the late afternoon sun can make the colors even more beautiful.
5:30 PM Dinner & Last Call – Slide into the Xula Vista Restaurant before it closes to enjoy a final delicious meal at Xel-Ha! The park begins to empty and you can enjoy a lovely meal and meander your way out of the park by 6:30 PM, tired and content.
Special Activities - Should I Buy the Add-Ons?
So when we mention "special" activities these are things like the Extreme Boat Ride, Snuba Diving or Swimming With Dolphins. My recommendation would be to pick one or certainly not more than two of these add-ons unless you're visiting Xel-Ha for multiple days. There's simply so much to see and do in this enormous park that you'll miss many of the amazing free activities because there is not enough time.
Checkout the list:
Snuba Cenote - ($59) Explore an underwater cenote safely with oxygen pumped to you
Power Xnorkel ($79) As James Bond-y as one can get with an underwater motorjet
Adrenaline Xel-Ha ($69) A VERY fast boat with 360 degree turns
Manatee Encounter ($79) Get up close and personal with this protected species
Stingray Encounter ($49) Interact with these majestic creatures. It's safe!
Sea Trek Discover ($69) Helmet dive allows to breathe underwater while walking the seafloor!
Snuba Caleta ($49) Snuba dive in the inlet where the sea comes into the lagoon
Swim With Dolphins ($99) Don't tell your kids this is an option or it MUST happen
Fish Therapy - If paying money to have fish nibble off the dead skin on your feet then this is for you!
You can buy these add-ons in advance of your visit or once you are already there. I'd recommend buying them there so you can decide if you've got time in the day.
Unexpected Fun - Photos From Xel-Ha
While normally I'm not one for buying photo packages, this was too good to pass up. Our seven year old dedicated a passionate effort to taking 70+ selfies on the built in cameras at Xel-Ha. It's pretty cool, you simply scan your bracelet and say cheese, leaving your own camera behind. The selfies and professional photos are compiled for you so you can take the lasting memories with you without having to bring your phone or camera around and get it wet.
Photo packages are $30 per person, so if you're in a bigger group the price tag can add up.
Pro Tip: if you ask for a discount they'll likely hook you up.
What Should I Bring To Xel Ha?
Being prepared for your day at a place like Xel-ha is critical for your family's success. Here's what you should and should not bring:
What you SHOULD bring to Xel-ha:
Biodegradable sunscreen – You'll put in a LOT of time in the sun
Solid Footwear – I can't stress this enough because you'll walk a lot from one attraction to the next. Where shoes that can get wet and will stay on easily (i.e. not flip-flops) as you swim through cenotes and walk across bridges. Consider bringing two pairs so you've got a different pair to wear if your getting blisters or just want something dry to change into. Read this Footwear at Xel-Ha Guide for more specifics.
A Camera – There will be many photo-worthy moments. With that said, find time to leave the camera behind or put it in a waterproof case so you can freely move from one water-activity to the next.
A stroller – Single or Double strollers are available for rental. There are miles of trails to cover so this comes in handy for the little ones. Nearly everything is wheelchair and stroller accessible.
Sunglasses – Of course.
Tips – While there is zero expectation for you to tip once in the park, I did ask management and they said it is deeply appreciated if you feel like you got great service from the staff. You can tip directly like you would at any restaurant or tour.
What you SHOULDN'T bring to Xel-ha:
Towels – Surprising right? The cool thing is they have unlimited towels for you to use and drop off at convenient locations.
Too Much Gear – While it's difficult for the ever-prepared parent to shrink the amount of stuff on an epic day trip, I highly recommend it. The less stuff you have with you throughout the day, the freer you'll feel and the more you can just focus on the people and beauty around you. With that said, there is an easy locker system where you can leave critical belongings in case you need to pop back to grab things throughout the day. You can easily move your locker "home base" to different parts of the park depending on where you'll be.
Non bio-degradeable sunscreen – The natural coral in Xel-ha park and the reef along the Caribbean coast of Mexico is precious. PLEASE help preserve it by only using biodegradable sunscreen. Nobody is babysitting you about, it's just the honor system.
Surprise Discount For Xel-Ha Tickets & Tours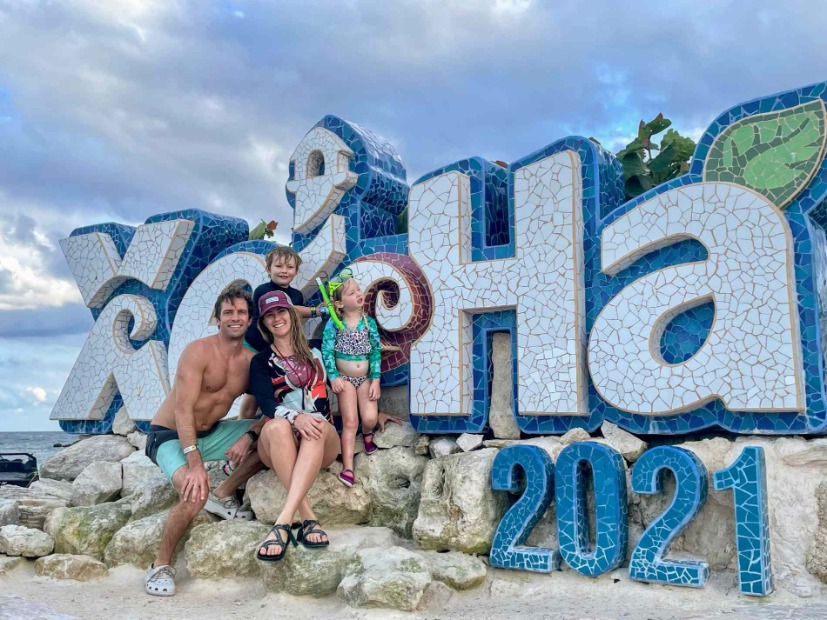 You made it to the end of the guide! Congrats and thanks for being such a rockstar. Because you are simply you, we are offering a 10% discount when you book Xel-Ha online for our VIP Xel-Ha Tour including transportation. Use "XelHaGuide" at checkout to save your family some money. Reinvest it in bitcoin, tip your servers extra well or simply spend it on other fun things to do in Cancun while you're down here.
Xel-Ha FAQs
Should I Tip At Xel-Ha?
There is zero expectation for tips at Xel-Ha. With that said, the staff work incredibly hard and tips are deeply appreciated for good service at the bars and restaurants. This is one great way to put some money into the local economy and employees that work tremendously hard.
What Does Xel-Ha mean?
Xel-Ha, pronounced "Chel-ha" comes from Yukatek Maya, combining the roots xel ("spring") and ha' ("water"). Xelha is an archaeological site near Playa Del Carmen that is at least 2,000 years old and was likely a critical port for the Maya people and sea-faring people groups.
Is Xel-ha wheelchair accessible?
Yes, most of the park is wheelchair accessible and there are accessible facilities in nearly every part of the park. Bring your own or rent them there. Hear firsthand from this woman about her experience at Xel-Ha as a wheelchair user.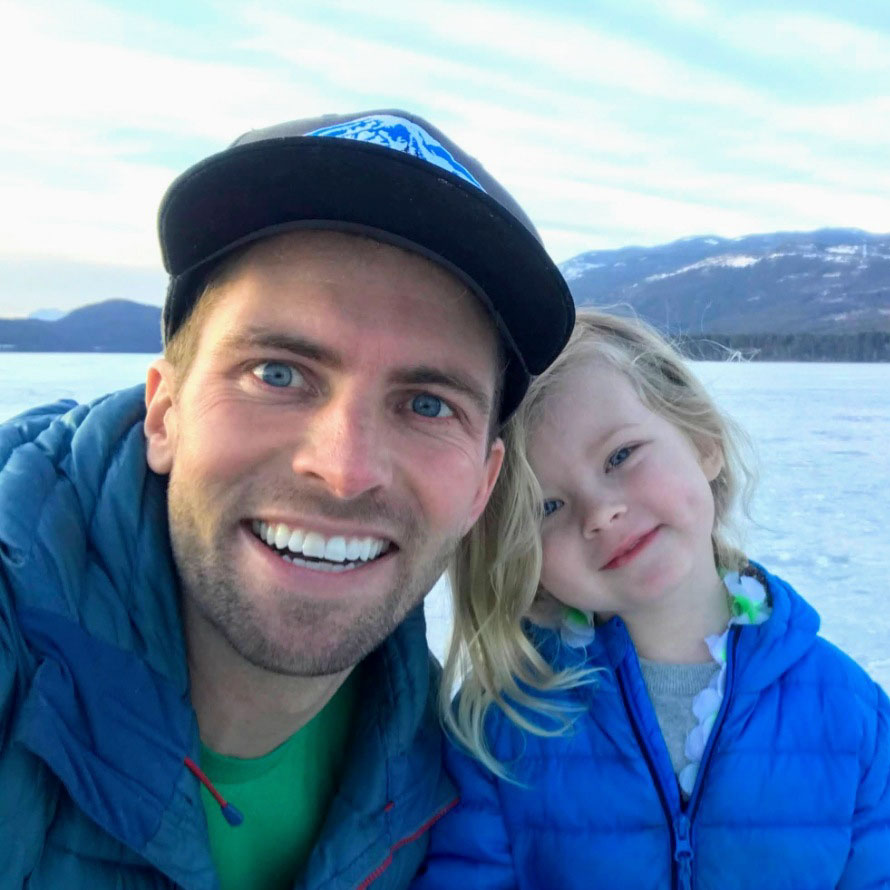 Travis V
Travel Enthusiast
Travis Vaughan is the CEO of Tourbase and has been working in and around travel and tourism since he was a student. He lived in the Caribbean for years and has traveled extensively through Mexico and Central America. He creates and edits travel content across Tourbase's many regional markets drawing on both his expertise in the business of tourism and his lifelong passion for international travel.